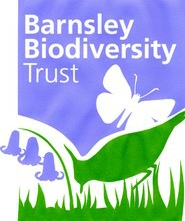 "Go Somewhere New". Most of the Barnsley Biological Records Centre's records of birds, animals and plants are from well-watched and well-recorded locations so we are asking local people to "Go Somewhere New" - and see what you can find.
The patch you choose may of course be one you know well,even your garden or part of a local park, but it has not had many records sent in!

We are hoping that this will lead to a greater spread of species information across the Barnsley area, and who knows, it might just lead to the discovery of something unusual or new to Barnsley.
Here's what you do.
Select a small area that will fit a six-figure grid reference. A six-figure grid reference covers a 100m² area of land.
This can be a field, marsh, reedbed, wood, garden, cemetery, a bit of moorland, brownfield site, park, scrub, school ground or whatever.
It can be part of a local wild life site or reserve that is not well recorded, or it can be just anywhere in Barnsley.
Give it a six figure reference such as SE123456.
Simply record what you feel able to identify – birds, plants, mammals, fungi, invertebrates – whatever you prefer!
Send in your records in the usual way. Click here for details. .
The Barnsley Biodiversity Trust would be interested in hearing about the area that you have chosen to have a look at.