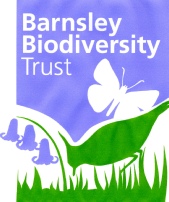 Actions
Key objectives for running water habitat
Raise awareness of the importance of rivers, streams and running water for biodiversity in Barnsley

Collect and analyse records of populations and assemblages of wildlife species in and alongside rivers and streams across Barnsley; in particular monitor and survey rivers and streams for presence of

Otter

,

Water

Vole

,

Soprano

P

ipistrelle, Daubenton Bat
Eel, Brown Trout, Bullhead

and

Salmon

White-clawed Crayfish

Invertebrates that indicate water quality.

Review the condition of river and stream habitats in Barnsley and promote measures to improve their biodiversity and connectivity.

Promote projects to increase the populations of key species currently absent or in low numbers.

Promote appropriate land management to prevent harm to rivers and streams, - preventing runoff of fertilisers; buffer zones; etc

Support surveys to identify the extent of the spread of invasive species and control/removal of invasive species where they are causing particular harm to biodiversity and the habitat.
Roles
The Environment Agency has regulatory powers and responsibilities to maintain and improve main rivers, as well as a general duty to promote biodiversity
Landowners with land adjoining a water course have responsibilities set out in Environment Agency guidance.
Living on the Edge' Environment Agency.
A number of organisations including land fill bodies may offer grants for habitat improvement along water courses.
Barnsley council as a planning authority can ensure in relevant cases that the biodiversity value of water courses and their surroundings are maintained and enhanced. It can require EIAs and set conditions in planning approvals.
Voluntary groups and volunteers can help with conservation work of water courses and their surroundings.
Local groups and volunteers can also help provide information about the condition of our water courses and collect records of the wildlife seen there.
Actions taken
Extensive works on River Dearne at Broomhill to create deeper pools, gravel bars and bank side improvements. (EA)

Flood plains reconnected to Dearne at Houghton washlands by lowering

flood bank to allow flooding

. (EA)

Artificial otter holts built at Old Moor and elsewhere on the Dearne.

Fish passes: Adwick; Bolton-on-Dearne, Old Moor on Dearne. DCRT Weir removed at Darfield.
Fish passes: Wharncliffe weir on Don and Langsett weir on Little Don. YW

Excessive nutrients reduced in water courses feeding Scout Dyke reservoir. Farmers, FWAG, Leeds Univ. YW, EA.

Habitat creation/restoration for Water Voles at Sandybridge Dyke. YWT

Meanders created Sandybridge Dyke, weir altered, reed bed restored. YW, EA,
Proposed actions
Target areas for habitat enhancement including lower Dearne Valley and near Wilthorpe Marsh

Restoration of riparian vegetation on bare sections of river bank



Targets and priority actions
Habitat improvement and flood plain connectivity along Dearne

Fish passes on Dearne and on Don as appropriate.

I

nvasive species along Dove and Dearne removed and controlled